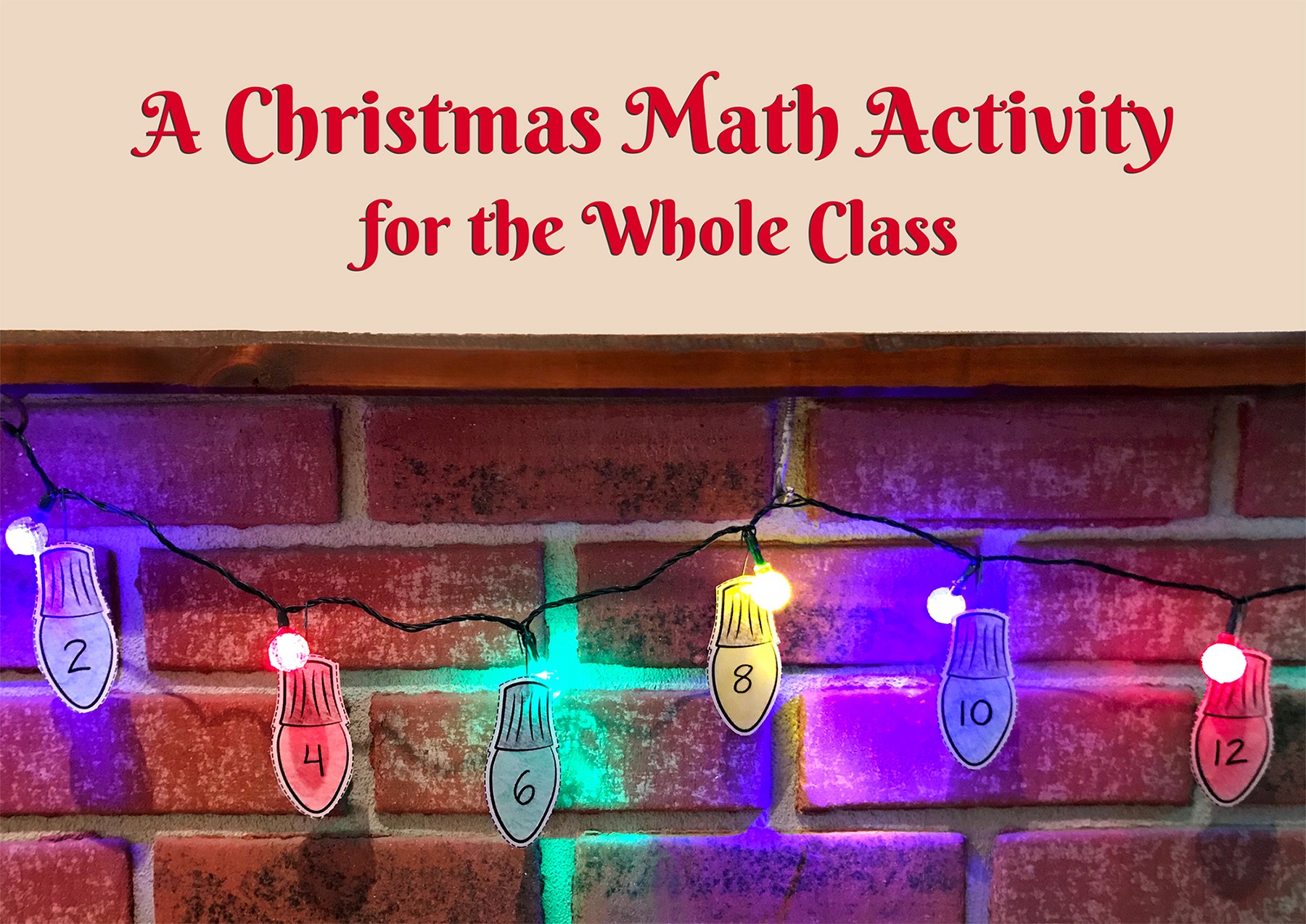 Celebrate the most wonderful time of the year with a festive Christmas math activity your whole class will love! Your little ones will practice skip counting as they help to decorate your classroom or living room with twinkling holiday lights. We provide the Christmas light bulb template to give you a head start with this fun holiday activity. Read on to learn how you and your students can skip-count your way to some magical holiday fun!
This skip counting math activity is ideal for your kindergarten, first grade, second grade, or third grade class. It's easy to set up, and you only need a few supplies to get started. Be sure to tag @iknowit on social media so we can check out your twinkling holiday lights!
First, you will want to grab a set of string lights to decorate your teaching space. You can buy a classic set of LED string lights from Amazon or your local craft store, or you can opt for something fancier, like string lights with snowflakes, stars, or oversized multi-colored bulbs. You may even want to use the lights you already have to decorate your indoor space for the holidays! Your holiday lights should already be in place at the beginning of this activity. If they are out of reach for little hands, you can have students bring their light bulbs to the front of the room for you to hang up for them.
You will also need to get some clips or clothes pins to use when your students are ready to hang up their skip-counting light bulbs. (Ornament hooks work well too.) In addition, you will need to print out several copies of this handy light bulb template, preferably on different-colored computer paper. As an alternative, students can color their own light bulb with crayons. Cut out the light bulbs with scissors and hand them out so each student has one.
An optional step in this activity is to laminate your light bulb templates so your students can reuse their light bulbs as they practice skip counting by different numbers. You don't need to laminate the templates to do the activity, but we highly recommend it so you can do a few rounds of the activity using different skip counting numbers. If you do laminate, provide a dry erase marker for students to write their skip counting number on their light bulb. Once your preparations have been made, you are ready to begin.
At the beginning of the activity, tell your students what number you will be skip counting by together as a class. For example, you may want to skip count by 2s. You take the first turn to start the skip counting chain and begin decorating your string lights. Write the number "2" on your own light bulb and hang it up at the start of your string of lights to begin the number pattern. Going around the room in order, instruct each student to write the next number in the skip counting pattern on his or her light bulb—one number per student. The student whose turn it is will say the next number in the pattern aloud as he or she takes a turn to add the next light bulb to the string of Christmas lights.
Once every student has taken a turn and you have completed the skip counting pattern as a class, you may wish to proceed with the decorations using a different skip counting pattern. Alternatively, you can leave the light bulbs in place and make the skip counting pattern a daily exercise, one in which you simply write the new pattern (skip counting by 3s, for example) on the light bulbs as the students go around the room calling out the next number in the sequence.
A math activity that calls for whole-class participation and gets your students up and out of their seats in a structured manner can be a great game for the holiday season when kids are extra excited and attention spans are shorter. You can adapt this Christmas math game to the needs of your teaching environment, whether you are in a classroom setting or using a homeschool model.
We hope you and your little ones enjoy this holiday skip counting challenge!
For more fun, interactive math practice, check out the hundreds of engaging math lessons available on iKnowIt.com!
Comments
Leave a comment
Thank you! Your comment has been submitted.