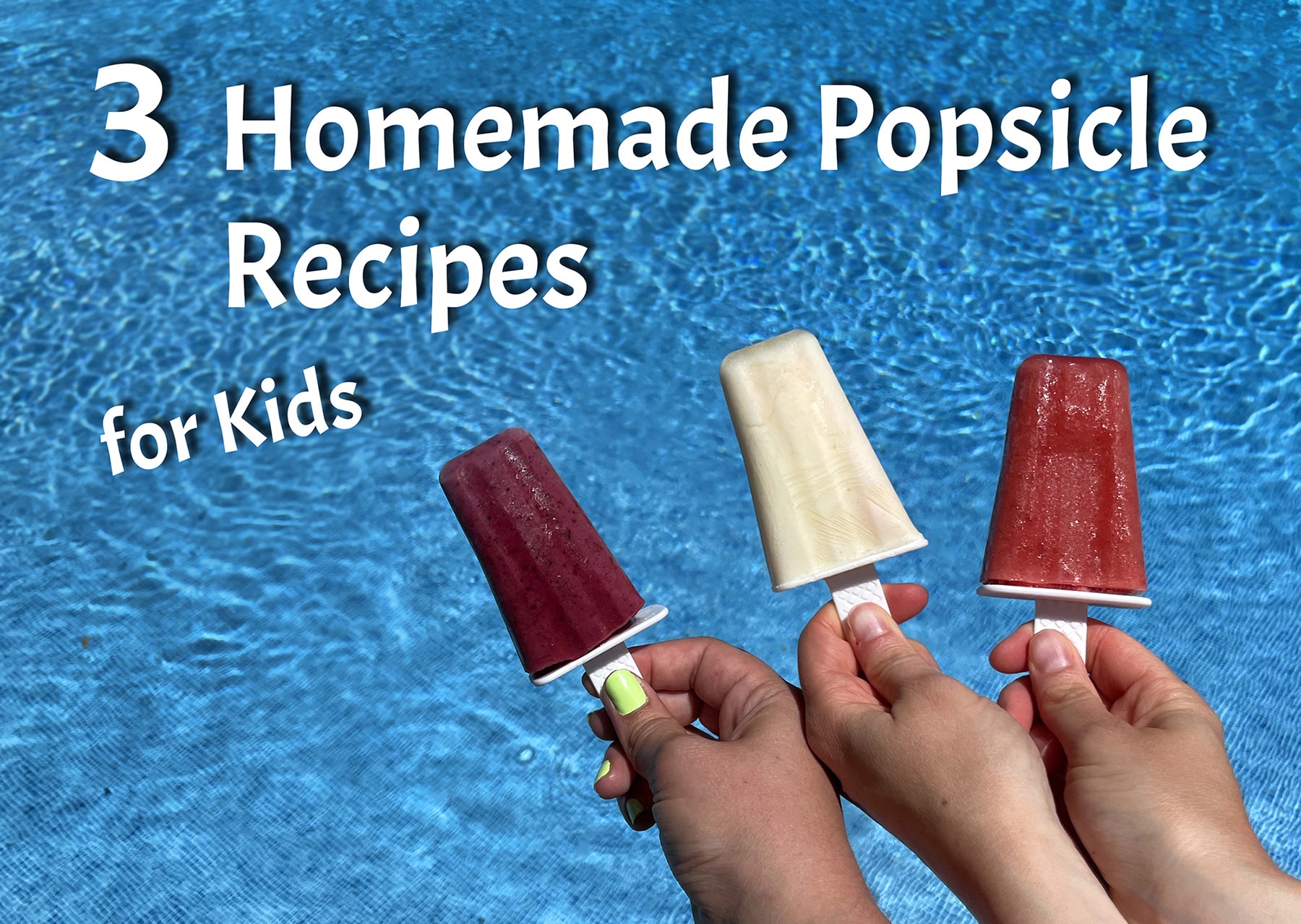 What could be better than delicious, homemade popsicles on a hot summer day? In our July blog post, we're featuring three easy recipes for homemade popsicles. All you need to make popsicles at home with the kids are a handful of seasonal ingredients, a popsicle mold, and a blender. Get ready to make a tasty summertime treat!
What You Will Need to Make Homemade Popsicles
Popsicles couldn't be any easier to make at home. You will need a blender and a popsicle mold. You can pick up a silicone or plastic popsicle mold at a store such as Walmart or Target or find one online. Choose the size and style you want and reuse the mold again and again. Many popsicle molds come with reusable sticks. If yours doesn't, be sure to purchase popsicle sticks separately. If your popsicle mold has trouble standing upright in the freezer, we recommend setting it in a small plastic storage bin to prevent spills.
Homemade Popsicles: Endless Variations
You can make practically endless variations of homemade popsicles with your kids! A quick online search will produce hundreds of flavor combinations to try. Consider the following recipes as just a small sample of all the popsicle varieties your family can make. The recipes are very flexible, so you can adjust the quantities to taste and swap out ingredients as your family desires.
Be sure to tag us on social media so we can see how your kitchen creations turn out!
Strawberry Banana Popsicles
You will need:
10 strawberries, fresh or frozen
1 banana, cut into chunks and frozen
½ cup orange juice
Optional: honey for added sweetness
Add all ingredients to a blender and blend on high speed until the mixture reaches a smooth consistency.
Pour the mixture into your popsicle mold. If the mold includes popsicle sticks, you can insert them right away. If not, place the popsicle mold in the freezer for a couple hours to let the mixture firm up a bit before adding your own sticks. Freeze popsicles for six to eight hours or overnight.
When ready to serve, remove popsicle mold from the freezer and pinch the bottom of each popsicle to loosen it from the mold. You can also run warm water on the underside of the mold to help loosen the popsicles.
Note: The bananas and orange juice will add a lot of natural sweetness to these popsicles, but you can add honey to taste if your popsicle-eaters would like more!
Enjoy!
Mixed Berry Yogurt Popsicles
You will need:
2 cups mixed berries, fresh or frozen
2 cups plain or vanilla whole-milk yogurt
3 tbsp honey
Follow all the steps for the strawberry banana popsicles, including the freezing and removal instructions.
Note: Since the berries and yogurt may be tart, we recommend adding honey to balance out the flavor with sweetness. You can adjust the quantity to taste.
Lemon Cream Popsicles
You will need:
½ cup freshly-squeezed lemon juice
2 cups plain or vanilla whole-milk yogurt
2 tbsp whole milk
2 tbsp honey
Optional: rainbow sprinkles
Follow all the steps for the strawberry banana popsicles, including the freezing and removal instructions.
Note: If you want to add a pop of color to these popsicles with rainbow sprinkles, choose a variety that won't bleed their color into your mixture. Most rainbow sprinkles are a safe bet, except for nonpareils.
Did you make homemade popsicles with your kiddos this summer? How did it go? Which kind did you make? We want to hear from you! Leave your feedback in the comment section below.
Looking for more fun ways to keep children engaged and learning during summer break? Try out interactive math games from iKnowIt.com and keep math skills sharp for the school year ahead.
Comments
Leave a comment
Thank you! Your comment has been submitted.